Super Bomberman 3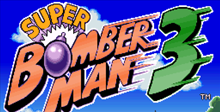 Platform:

SNES
See also: Bomberman Games, Super Bomberman Games
The five evil bombers that wreaked havoc on SB2 have been resurrected by Dr. Buggler! Pack your pockets full of time bombs and get set to blast them again!
In the latest sequel, B-man can be joined by Louie, a kangaroo-like animal that lets him skip over bombs, kick bombs and even take a hit. Better yet, two players instead of just one can participate in the Story Mode!
Super Bomberman 3 Downloads

Super Bomberman 3 download
Bomberman '93 has all of the action packed puzzle gaming you can handle! Included is a five simultaneous player option and incredibly good graphics!
Place the bombs in certain spots to blow away enemies, uncover power-ups and find the exit to the next level. Collect items to expand your explosions and give you invincibility! It's a blast!