Super Bomberman 3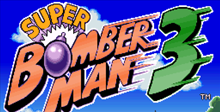 Platform:

SNES
See also: Bomberman Games, Super Bomberman Games
Bomberman '93 has all of the action packed puzzle gaming you can handle! Included is a five simultaneous player option and incredibly good graphics!
Place the bombs in certain spots to blow away enemies, uncover power-ups and find the exit to the next level. Collect items to expand your explosions and give you invincibility! It's a blast!
Super Bomberman 3 Downloads

Super Bomberman 3 download