Super Ghouls 'n Ghosts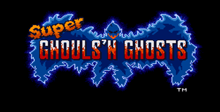 a game by Capcom
Platform:

SNES
Suit up for an all new Ghouls and Ghosts adventure!
Arthur's back and he's ready to do battle with a whole new crew of ghosts and goblins in all new adventure for the Super Famicom. The story is pretty much the same: defeat the minions of evil and rescue your main babe from the head bad guy, whoever he is. The graphics in this game totally blow the Genesis version of it's predecessor to pieces. The audio is also some of the best ever conceived on the Super Fami. The best thing about this game is the incredible game play. Challenging in every way but a game that can be mastered. The phenomenal graphics, sterling sound and gorgeous game play will keep you coming back again and again. Definitely a candidate for Game of the Year!
Super Ghouls 'n Ghosts Downloads

Super Ghouls 'n Ghosts download
This is truly one of the most amazing games on the Super NES. Mind blowing graphics, sterling sound and game play with a high level of difficulty blew us away in every way.