Super Godzilla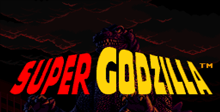 a game by Toho
Platform:

SNES
Only super Godzilla fans will like Super Godzilla. This strategy game lumbers along with minimal action.
You control Godzilla in a battle against extraterrestrials who command Japanese monsters like Mechagodzilla. The visuals and sounds, like the brassy music and famous Godzilla roar, capture the essence of Godzilla movies.
ProTip: Use Body Strikes, Tail Swipes, and Hyper Fire Breath on Mechagodzilla.
Unfortunately, the big guy moves super slowly. You mainly view a boring map screen, where unresponsive directional controls make simple movements a thumb-burning adventure. When you finally battle, minimal button presses fire up good-looking but static cinematic attacks.
This game may captivate Godzilla groupies, but discriminating gamers will breathe fire. Try renting this game... and a few Godzilla movies, too.
Super Godzilla Downloads

Super Godzilla download
The king of monsters, Godzilla, is coming out on his Super Famicom. While the Super NES version won't come out for some time, this one will be hitting Japanese stores shortly. This game is a lot like a Godzilla simulation where you control the big mutant dinosaur himself. Fight foes like the terrible Mecha-Godzilla in a rampage throughout Tokyo! Monster mania at its finest!