Super Off Road: The Baja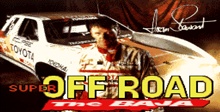 a game by Software Creations
Platform:

SNES
See also: Super Off Road Games
Machine: SNES;
Manufacturer: Tradewest;
With Super Off Road: The Baja, Tradewest has gone out of its way to provide a highly realistic addition to its popular line of off-road racing simulators. To this end, this addition is based on a real-world race - the Baja 1000 - and it provides you with a real-world opponent.
The Baja 1000 is off-road racing's most prestigious event. The race begins in California's coastal resort of Ensenada and takes its participants through deserts, mountains, forests, and cactus fields to the town of La Paz, nearly 1000 miles away. These days, even truck manufacturers are getting in on the action, hoping to prove that their vehicles can survive the abuse that the half-crazed drivers put them through.
Your opponent in this game is Ivan Stewart, a member of Team Toyota and winner of numerous Baja events. In addition to providing you with ample competition, Stewart assists you with advice on how to equip your truck before each leg of the race. You also have the option of competing in a rather unusual two-player game: Instead of head-to-head competition, the first player zips through the course alone, then player 2 competes against the "ghost" image of the first player's route. It's not as effective as traditional racing, but it's an interesting alternative.
The game's realism is best realized in player control. Instead of zipping around with F-Zero-like speeds and handling, you're reduced to a reasonable speed of around 60 or 70 mph. Your turning ability is likewise limited: If you try a 90-degree turn at high speeds, you're probably going to flip over. At the same time, you reap the benefits of the vehicle's off-road design - you can run off the road and just slow down a bit, instead of the standard "stop, shift to low, ease back on the track" routine.
Other games by
Software Creations
Super Off Road: The Baja Downloads

Super Off Road: The Baja download
For most people, auto racing conjures up images of low, sleek vehicles gliding around expertly engineered tracks so smooth that even a pebble could send you spinning out of control. Well, buckle up for safety, because Super Off Road introduces you to the wild world of off-road racing.
ProTip: Whenever you can, take shortcuts around ATVs.
The Road to Baja
Super Off Road, The Baja is a rough-and-tumble auto-racing game that's sure to rattle your SNES psyche. You use a behind-the-vehicle perspective to drive a state-of-the-art Toyota four-wheeler down the length of the rugged Baja, California peninsula.
If another car tries to pass you, bump it on the right- or left-front fender to knock it off the road.
If you don't believe Off Road qualifies as a serious auto-racing game, take it up with Ivan Stewart. He's currently Baja racing's world champion, and the game sports his moniker and technical expertise.
Try to snatch Nitro on the road to save your bucks for hardware at the Pit Shop.
No Mexican Holiday
Super Off Road features three major races: the Mexico 250, the Ensenada 500, and the Baja 1000, which end at various spots down the peninsula. The 1000 is the ultimate driving test, where you drive the entire length of the Baja. Like in the real thing, you race against the clock as well as other vehicles. Winning and losing is determined by your overall time.
You can rocket over the competition if you hit Nitro as you reach the crest of a hill.
There's plenty offender- bending and bumper-banging going on in this game. It's the roughest video game terrain you've ever raced on. Your truck careens across hills, dirt paths, and dips. Sometimes it seems like you spend more time in the air than you do on the ground! It's a tribute to the game's rugged controls that you're able to guide your car at all. Keep an eye open for bystanders, animals, and riders-on All Terrain Vehicles -- hitting them costs you major penalties.
At the end of each leg, you can buy equipment for your truck -- Shocks, Engines, Brakes, Lights, and Shots of nitro fuel. Choose wisely but quickly. The time you spend here adds onto your overall time.
Keep Your Eyes on the Road
Super Off Road's graphics aren't showroom quality, but just like your trusty Toyota truck, they get you into the game and back. You even get a terrific sense of dusty, desert driving as your car bounces all over the screen.
As for the sounds, they don't make much noise. At least they don't distract you from the serious job at hand.
Get Off Road
Off Road never played better. If you like a racing game that requires more than a lead finger to win, get your butt to the Baja.