Super Troll Islands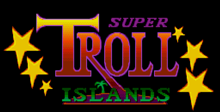 a game by Kemco
Platform:

SNES
Wait! Wait a minute. This is an interesting concept (turning black and white lands into color), but the incredibly fast speed at which you travel leads to many unintentional errors - like running into enemies!
Super Troll Islands Downloads

Super Troll Islands download
Sorry being Scandinavian i had to try out the Trolls game!, One for little kids only is my verdict.