Tecmo World Cup Soccer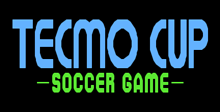 a game by Tecmo
Platform:

NES
See also: Soccer Games, Championship Games, Tecmo Games
Manufacturer: Tecmo
Machine: NES
Difficulty: Moderate
Available: 1992
Theme: Sports
Born to win
You are Robin Field, possibly the greatest soccer player since Pele. You have the best team and you have the guts and skill to take the championship! It will require careful planning on your part; unlike most soccer games, this one relies on strategy rather than fast reflexes.
Instead of an above or side-screen view, everything is shown in a head-on perspective. You keep dribbling until you get surrounded or threatened. Then, you will get an option to dribble around your opponents, pass to a teammate or shoot for the goal.
On defense, slide tackling, blocking and other actions can be performed. Playing like a movie with a story rather than a sports cart sets this game ahead of the rest. If you want a change from the arcade-style soccer game, check out Tecmo Cup Soccer!
Tecmo World Cup Soccer Downloads

Tecmo World Cup Soccer download
Manufacturer: Tecmo
# of players: 1 or 2
Difficulty: Moderate
Available: October 1993
Theme: Sports
The inevitable has happened. You knew sooner or later Tecmo was going to make a 16-Bit version of their enormously successful football game from the NES. Voila! Behold - Tecmo Super Bowl! This upgraded game is everything the old one was and more. You get more cinemas per play, more plays to choose from, more players on the playing field, and more options like weather conditions. Other new features include an updated roster, a new touchback feature, and a play that will let you dive over the top of the linemen for a touchdown! The graphics have definitely improved even though the onscreen players are the same size. The logos of all the NFL teams have been used. There are also many digitized voices that describe the plays or fouls.