Tetris Attack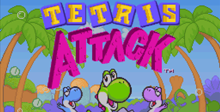 a game by Intelligent Systems
Platform:

SNES
See also: Tetris Games
Just when you thought Tetris couldn't get any better and there were no more possible variations, Nintendo pulls Tetris Attack out of its bottom less hat. Give yourself lots of time to play this superb puzzler because you can't walk away once you start.
Unlike the classic Tetrises of yesteryear that utilized falling blocks, Attack lifts its blocks up from the bottom, and players try to make three-block matches based on color rather than fitting different shapes into open slots. The result is a gentler, slower style of gameplay that requires learning some easy new controls, but this game's no less addicting than the original Tetris. The two-player modes are the fastest fun.
The graphics are as sharp as ever, incorporating Yoshi and pals into the brightly colored backgrounds. The sounds bounce along like a good Tetris game should.
If it's been a while since you've Tetrised, you should go on the Attack.
ProTips:
Try to make the moves that give you multiple combos.
Look upward to pull blocks off the top of columns for easy matches.
Other games by
Intelligent Systems
Tetris Attack Downloads

Tetris Attack download
Can't get enough of Tetris! Attack features five single-player games, 60 levels in puzzle mode, and two dual-player contests. Enhancements include the ability to cascade chain reactions in an opponent's screen and flip-flop two blocks in a row.