The Krion Conquest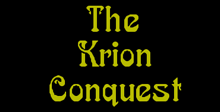 a game by Vic Tokai
Platform:

NES
See also: Quest Games
Alien robots from the evil Krion Empire have invaded Earth and ransacked the planet to the brink of destruction. Even the most powerful armies in the world cannot repel the invasion. Teetering on the brink of surrender, the people of Earth have one last chance for survival. Only the power of the ancient witches and their mighty magic can stop the invaders.
In The Krion Conquest, the force of magic is on your side as you become the powerful witch Francesa. Your mission is to save the Earth from doom and destruction.
You must fight through five rounds, each with three stages and a final boss. You'll do battle underground, underwater, suspended in air, surrounded by ice, and in outer space, and you'll need all the magic and power at your command to survive.
There are six kinds of magic in Francesa's bag of tricks. When the game begins, you can use all six. Take a look at your position on the screen and the location of the enemy before choosing which trick to use - each one is different.
Your witch's robes change color to indicate which spell you've cast. If your robes are blue, normal and super shots will freeze your enemies in their tracks for a few moments. Green robes mean you've cast the ball magic spell, so your shots will ricochet off the walls. If your robes are orange, you're using a shield spell, and your shots will form a barrier between you and the enemy robots.
When you choose the fire spell, your robes turn pink and Francesa transforms into a firebird, destroying all enemies on the screen. But make sure you have at least one-third of the power remaining on your life meter before casting this spell - it reduces your life power by that much.
The graphics and screens in The Krion Conquest resemble those in the Mega Man series, but don't be fooled by small similarities. When it comes to action, adventure, and graphics, The Krion Conquest is unfortunately a step behind those trend-setting games.
The Krion Conquest Downloads

The Krion Conquest download
High tech terror has struck planet Earth. The year is 1999 and the Krion Empire Robotic Batallion has taken command of the planet. The situation appeared hopeless until one sensible little boy decided to call upon Francesca, a good witch who had saved the Earth once before. This nifty five level Mega Man-style action adventure pits Francesca against the treacherous battalion. Fortunately one of the perks that comes with being a witch are magic powers -- lots of 'em! A flying broomstick, a shield, ricocheting ball shots, and the magic of the Fire Bird are just a few of the tricks you've got up your sleeve. Get bewitched by Krion Conquest.