The Lost World: Jurassic Park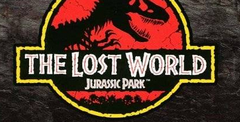 It's appropriate that possibly one of the bestlooking games to come out this year is based on possibly one of the best-looking movies to come out this year. The Lost World video game by DreamWorks is due out soon for the PlayStation (the Saturn version is being made by Sega-see last month's cover story], as is The Lost World movie by Steven Spielberg.
The world-famous film director himself overlooked the video game project in the beginning [he even took his children into the DreamWorks studios to get their opinions on the early betas).
But now as the game is nearing completion, Spielberg has left the gaming experts at DreamWorks alone to do what they do best. The game takes place four years after the events in the first Jurassic Park film. A second island (which was abandoned by the scientists) now serves as an overgrown home to dinosaurs left unchecked. You might think that it is your job to go in and take care of these ancient creatures, but The Lost World not only has you playing as one of two heavily armed human dinosaur hunters (Turok, anyone?), but as any one of three ferocious carnivores as well. You can play either as a compsognathus (the smallest of the bunch), a raptor or even the mighty tyrannosaurus rex. Each separate character has its own set of movements and attacks, giving the game plenty of variety. All of the enemies will be unique as well. And with the attention being paid to the little details in this game, you may wonder how close you are to the real thing.
For example, when playing as a T-Rex, you may run into a pack of humans armed with flamethrowers and rifles. You might decide to step on them or ram head-first through their ranks. You may even want to eat a couple of them or just toss their bloody carcasses into the air. But first, you'll have to catch them. These intelligent enemies will run away from you the minute you turn to attack. You might hear them screaming for help (or for more ammo!) as your massive, ultra-realistic-looking body lurches forward for the kill.
It's too early to tell right now, but The Lost World may be the video game industry's summer blockbuster. Watch for this highly anticipated title soon.
MANUFACTURER - DreamWorks Int
THEME - Action
NUMBER OF PLAYERS - 1