Thunder Fox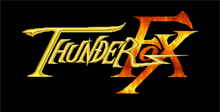 a game by Taito
Platform:

Genesis
Based on an older Taito arcade game, Thunder Fox plays like the current Mega Drive game - Midnight Resistance. Very smooth scrolling action with multi layered backgrounds give this soft a good look. With a constant flow of enemy soldiers to fight, ThunderFox will give those who like shooting games a constant flow of nonstop action. Grab the different weapons along the way for even more explosive firepower as you set out to destroy the enemy's base.
Thunder Fox Downloads

Thunder Fox download
Lead the assault against the terrorists who are out to take over the the world. Get you gun and head out on one of the hardest missions ever on the Genesis!