Times of Lore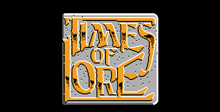 a game by Toho
Platform:

NES
Enter The Kingdom of Albareth!
An action packed fantasy role-playing game that lets you adventure in strange and faraway lands with super graphics and super fun! Travel along seashores or explore desert ruins. Test your strength, skill, and courage using your sword and wit against your enemies in Times of Lore!
Times of Lore is a real-time action game that lets you experience an epic story with you as the hero! The fantasy role-playing game filled with endless fantastic excitement!
Times of Lore Downloads

Times of Lore download