Tintin In Tibet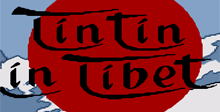 a game by Infogrames
Platforms:

Genesis

SNESGameGear
See also: Tintin Games
Tintin in Tibet (Tintin au Tibet) is a game based on one of The Adventures of Tintin, a series of classic comic-strip albums, written and illustrated by Belgian writer and illustrator Hergé. This game featuring the young reporter Tintin. Tintin in Tibet is a video game, loosely based on the Tintin in Tibet comic book written and drawn by Hergé.
Tintin In Tibet Downloads

Tintin In Tibet download
The man responsible for Tintin was Georges Prosper Remi. Born on May 22, 1907 in Brussels, Remi developed an early interest in drawing cartoons and his earliest works made their debut in his boy scout troupe's publications. At the age of 17, he decided to adopt the pseudonym "Herge", under which he become famous.