Total Recall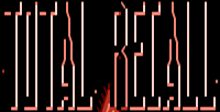 a game by Acclaim
Platform:

NES
See also: Arnold Schwarzenegger Games
It's a weird feeling, who are you? Douglas Quaid. Are you sure? Ever since that brain implant you really don't know. To make it worse, you are being chased by somebody's hired guns and you don't know why. The answer to all your questions you believe, is somewhere on Mars. But who do you look for once you're there? It could be the boss behind the turbinium mining activity. Find him and he could just be the key.
People say:
3
NES video games just hit a new low. Total Recall is a total bore that has sub-standard graphics and none of the action found in the movie. The whole thing comes off like a bad dream, with hardly any fun to be found.
3
Combine a mega-hit movie with one of the best Nintendo software companies around and one would expect a great NES game. Wrong! Total Recall has substandard graphics, fair gameplay and is just not what one would expect from Acclaim. A big disappointment. Not up to standards.
3
What happened Acclaim? Did somebody reprogram Rambo and digitize Arnie's face in a couple of scenes? The movie was cool but the game is a horrible adaptation. There is little animation in most of the characters and it has 2600 sound effects. Acclaim should "recall" this one.
2
In the movie of the same name, Arnold's character's memory was erased! This game, based on that movie, should also have it's "memory" erased! Total Reject!
Total Recall Downloads

Total Recall download
You are Quaid (aren't you?). You're about to take a vacation to Mars (they're trying to kill you). It should be fun (deadly secrets are being unlocked by your mind implant) and relaxing (only you can prevent an interplanetary catastrophe).
Beware of secret agents, Ninja hitmen, and robot drones attempting to destroy you. Have a safe trip (you'll never make it alive...)
"Total Recall" - the action game you'll never forget.
If you've been wowed by block buster sci-fi hit, Total Recall, starring the iron man himself, Arnold Schwarzenegger, you'll be thrilled to know that NEC published a game of the same name and concept. Plunged headfirst into the year 2075, you as the main character, Quaid, must cope with a variety of unknown dangers when you fall victim to a conspiracy in which dreams and reality become virtually indistinguishable. Brainwashed by a cerebral implant, you can trust no one as you travel abroad collecting a series of hi-tech weapons necessary to aid you in your quest and eventually to help you win the final, ultimate confrontation on Mars.