Totally Rad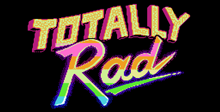 a game by Jaleco
Platform:

NES
Totally Rad takes the most awesome beach dude on a trip far below the sand, in pursuit of the totally ungnarly creature who made off with his beautiful girlfriend. Along the way, he runs into some totally gruesome monsters, who come after him with some pretty heavy magic. Luckily, he's got a few tricks of his own: magic boomerangs, electric shock claws, shooting stars, even telepathy. This dude even has the ability to change forms... from a bird to a lion to a giant lizard.
Totally Rad Downloads

Totally Rad download
Type:Action
Available: April 1991
Levels: 5
Difficulty:Avg.
The master magician, Zebediah, has offered to train Jake his powerful magics. After much training Jake is attacked and his girl, Lisa, is kidnapped! Help Jake rescue Lisa using his awesome magic that can transform him into a birdman, a catman, or a fishman! Jake also has control of the various elements to wipe out a screenful of enemies in one swoop. The question is, why do these creeps want Lisa?
People say:
8
Now here's an example of Jaleco's brilliance that really shows their potential! Radical, awesome, gnarly, and just plain cool are a few words that describe Totally Rad! The concept is radical, the music is awesome, the magic is gnarly, and the characters are cool. Good work!
8
Wow! Now this is a game that I am continuing to play even after doing the review. The graphic and BGM are much better than average and the bosses...:well, they are something else! This game takes practice but it is fun nevertheless. One of the best in a long time.
8
Awesome! There's still hope for NES with games like this. Original in concept, this game has excellent graphics and game play. Full of technique and special power-ups plus plenty of variety. Hilarious end bosses take up the whole screen. If you don't get it, you'll be totally had.
8
Totally Rad is just that, totally rad! Even the best gamers will find the techniques involved in this cart to be challenging and satisfying. The graphics are good, and the music is upbeat. These end-bosses will knock your socks off as they are usually a full screen tall! Good work, Jaleco!!
Machine: NES
Levels: 5
Theme: Action
Difficulty: Moderate
Number of Players: 1
Available: April 1991
Most excellent, Dude!
Jake is the apprentice of Zed, a master magician. While preparing for his training. Jake is maliciously attacked by unknown assailants! While fighting off the attackers, Lisa, his girlfriend, is kidnapped, so Jake heads to the underworld to win her back!
Of course, Jake is not defenseless either. He has a powerful assortment of magic at his disposal, including magic that can transform Jake into different man-animals! He has mastered the art of elemental mysticism and can control fire, water, air, and earth spells.
As Jake Completes each level and destroys more enemies, his magics become more and more intense, then again, so do the enemies! Certain magics only work when Jake is himself, so plan your strategies carefully.