Triple Play 96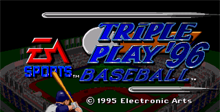 a game by Electronic Arts
Platform:

Genesis
See also: Baseball Games, Triple Play Games
So you thought it was pretty cool to make your own players, did you? Well, how cool would it be to start bringing players back from the dead? Pretty cool, eh? Next time you're creating a player, try throwing in a name of one the all time great players.
Now that you've got Babe Ruth on your team, it seems doubtful that you'll have much trouble finishing that team lunch.
When given the opportunity to enter a player's name, try entering someone famous like Babe Ruth or Cy Young.
Other games by
Electronic Arts
Triple Play 96 Downloads

Triple Play 96 download