Twisted Flipper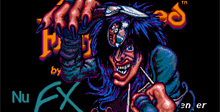 a game by Electronic Arts
Platform:

Genesis
See also: Pinball Games
Electronic Arts / Genesis
Twisted Flipper? Yes, that's right 'pin' heads, Twisted Flipper is futuristic pinball action at its best! As you play Twisted Flipper, you will be overcome with the sights and sounds you will experience! Many hazards are waiting to swallow up your ball and even curse the ball so it will actually avoid the bumpers and steer toward the pit!
Other games by
Electronic Arts
Twisted Flipper Downloads

Twisted Flipper download