Ultimate Qix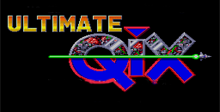 a game by Taito
Platform:

Genesis
See also: Ultimate Games
Levels: N/A
Theme: Action
Players: 1
Difficulty: Easy
The popular title for the NES and GameBoy is being transferred to the 16-bit format! Try to block out as much of the screen without getting hit or before the time runs out!
Ultimate Qix Downloads

Ultimate Qix download
Taito is bringing a revamped version of their arcade classic Qix to the Genesis. Featuring great graphics and cool backgrounds, Super Qix also has a variety of power-ups.