Wayne Gretzky's 3D Hockey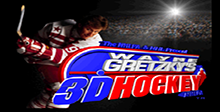 a game by Midway
Platform:

Nintendo 64
See also:Hockey Games, Wayne Games, 3D Games, Wayne Gretzky Games
The N64's gets a sports game, but is it to everyone's tastes?
The first n64 sports game out of the gate is ice hockey, and who better to slap his chiselled features on the packaging than Wayne Gretzky, probably the most famous hockey player of them all?
Like all games of this ilk, Gretsky is packed to the gills with options such as multiple views, rule changes, line adjustments and team logos, but what sets it apart from the many ice hockey games already available on 16 and 32-bit systems is the sheer quality of the graphics and the speed at which it shifts the polygon players around. Slowdown is a distant memory.
The big plus with this game though is that you can player with not one, not two, but three additional players at once, and that means major multi-player mayhem. You can have two players each on competing teams, or even go up against the computer with all four of you controlling the front line players.
Wayne Gretsky is fantastic fun, especially as there's a viewpoint included for everyone, but from the import copy we played, the computer goalies are far too easy to beat, something which could be addressed in time for the UK copy. A must for ice hockey fans.
Prospects: A solid sports title on which to build, but not everyone will be interested.
Similar Games
Viewing games 1 to 4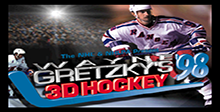 Wayne Gretzky's 3D Hockey '98
Take on "The Great One" again in this hot sequel to the smash hit voted "Best Sports Game" of '96! With more great features, such as new hidden teams and improved, hard-hitting AI, Gretzky '98 packs a wallop! Includes all 26 teams, each with 17 available players on their actual NHL teams, and you can make player trades or line manipulations to create a powerhouse team of your own. Play 3-on-3, 4-on-4 or 5-on-5 games on either arcade or regulation size hockey rinks, plus exhibition games, full 82 game seasons or a best-of-seven playoff series with full statistic saving capability.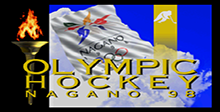 Olympic Hockey Nagano '98
For the first time in history, NHLPA pros are descending upon the Olympic Winter Games. Be a witness as regular season opponents join together as teammates. Kamensky and Yashin are laced up for Russia. Kariya and Roy get the nod for Canada. Modano and Leetch are in for the United States. The rosters are real. The graphics will make you sweat. It's country against country in this engagement. And the price of glory isn't gonna be pretty!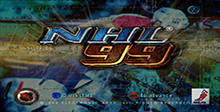 NHL 99
The most celebrated hockey game comes to the Nintendo 64. Battle along the boards, feed the open man, patrol the ice! Game Features: beginner lever - pick up and play; coaching strategies from Stanley Cup Winner Marc Crawford; commentary by Bill Clement; 5 game modes; 18 top international teams; updated 1998 roster-expansion Nashville Predators.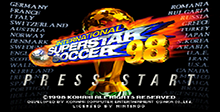 International Superstar Soccer '98
Do you have what it takes to be a superstar? Over 17,000 new motion captured animations! Team motivation, players and teams react to real game situations. Vertical camera angle allows you to see more of the pitch. 52 International teams and 9 unique soccer stadiums. Create your own players and trade existing ones. Infinite team formations and customizable strategies.
Wayne Gretzky's 3D Hockey Downloads

Wayne Gretzky's 3D Hockey download
Ice hockey game that was I good for its day but now I looks dated. Now superseded by Wayne Gretzky's 3-D Hockey '98.
For sheer whizz-bang, puck-zipping magic. Gretzky is hard to beat, the one thing that lets it down is the fact that it's only ice hockey.