Wheel of Fortune Deluxe!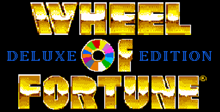 a game by Imagitec Design Inc.
Platform:

SNES
See also: Wheel of Fortune Games
Hard-core fans of the TV show might enjoy the Wheel, but most gamers will wonder why the concept's so popular.
Solve 4000 word puzzles and watch Vanna turn letters. Throw in a money wheel, and there's your game. Gametek jazzes things up with character-select screens and Vanna's voice, but this is a pretty slow game, even when you play against two friends.
The graphics and sounds don't add much. A clicky wheel, a board with squares, lounge music -- oh, boy. Unlike Jeopardy, WOF doesn't test your knowledge, it tests your ability to guess and spell. Should I spin? Solve the puzzle? Buy a vowel? If these strategic questions appeal to you, take this wheel for a spin. Otherwise, roll on by.
ProTip: Don't solve the puzzle too quickly. You'll make more cash if you spin extra times.
Other games by
Imagitec Design Inc.
Wheel of Fortune Deluxe! Downloads

Wheel of Fortune Deluxe! download