Where's Waldo?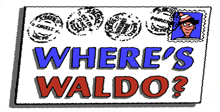 a game by THQ
Platform:

NES
The puzzle game, released in 1991, is based on the popular Where's Waldo series of books, that appeared to be a huge pop-culture sensation in 1990ies. The USA was almost swept with waldo-mania.
It is a single player game and the goal is to find Waldo in a range of pictures to progress through the game. The sizes of pictures in the Easy and Practice levels are of the screen size. In further levels, Medium and Hard they are larger and can be scrolled to see the rest of the area. The directional buttons control a magnifying glass, which must be placed over Waldo to find him and move to the next level and a new picture.
In most levels time is limited, except the Practice. But since there is no time limit, only the Train, Forest and Caves levels are open there. Each time a new game starts, Waldo is moved to some new location and scenery.
Where's Waldo? Downloads

Where's Waldo? download
The popular mind puzzle game is coming to the NES. Find Waldo among dozens of other similar looking people as you race against the clock. Variable difficulty settings.