World Class Leaderboard Golf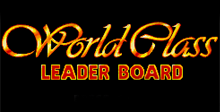 a game by Access
Platform:

Genesis
See also:Championship Games, Golf Games, World Class Games
Fair-weather golfers, it's always a nice day to be out on the green in World Class Leaderboard by U.S. Gold. This Genesis game gives you realistic golf play without the blisters.
Birdie's Eye View
You'll practically feel the wind in your hair on the fairway of this course's several views. Before you tee-off at each hole, you get an overhead view of the hole's layout, which switches to a behind-the-golfer view when you're ready to hit. Your ball flies past beautiful, lush, backgrounds. From the tee, however, the course and the green look a little fuzzy with a distinctly polygonal effect.
ProTips:
You may overshoot the green if you use full power within 360 yards of the hole.
For those close-to-the-edge of the green shots, it's best to chip with the Sand Wedge
Rrather than a Pitching Wedge.
The golf in this game scores a hole-in-one. Drive your ball into action after you set the power of your swing with a sliding meter, and aim your shot by using a cross hair. To ease your golfing frustration, there's an overhead view of the current hole on the right side of your screen -- a big plus over PGA Tour Golf. As your ball soars, the view zooms in for an excellent look at your ball on the course. The split screen enables you to keep tabs on your stroke counts and check on how many yards your ball is from the cup, as well.
World Class Leaderboard comes with a golf bag full of options. You choose from 13 sticks, including a Pitching Wedge and a Sand Wedge. You can also choose between three world renowned courses (Doral, Cypress Creek, and St. Andrews) and one original course, Gauntlet. There are three different modes of play -- Medal, Stableford, and Tournament. Up to three other players can also join in at any time (except in the Tournament mode). To fine tune your game, there are three tee placements, a wind indicator, and a practice mode, so you can try your stroke on a driving range or a putting green. Your player even adjusts his stance depending on the club being used. If you still need help, you can call on your caddie for advice on which club to use in specific situations.
To compensate for the very slow greens, putt with power.
Championship Golf
All in all. World Class Leaderboard is world class. Realistic golf sounds, such as the ball dropping into the hole and the "swoosh" of your swing, will make true golfers smile. This game only has two handicaps: the otherwise fine controls take a little getting used to, and female golfers will find that the clubs in this game are rated according to the swinging power of the male gender. Don't miss your tee-off time with this game.
World Class Leaderboard Golf Downloads

World Class Leaderboard Golf download
Tee it up on some of the world's most famous golf courses. Florida's Doral Country Club, a course so tough it has pros think about getting into a new line of work. Cypress Creek, the longest in Texas, this baby challenges even the biggest hitters. Saint Andrews in Scotland, the true granddaddy of them all. And, if that's not enough, there's the custom designed Gauntlet Links, maybe the toughest of the four. So if you're ready for the excitement of world class action...This bub's for you!