World Series Baseball 96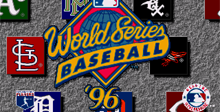 a game by Sega
Platform:

Genesis
See also: Baseball Games, World Series Baseball Games
It's hard to imagine a bigger rip-off than College Slam's knock-off of NBA Jam (see "Sports Pages," July), but World Series '96 earns that dubious honor. Beyond tuning the gameplay and fixing some bugs, the only change Sega made since World Series '95 is adding in the 1996 schedule and Opening Day rosters. Yup, put your wallets away -- it's virtually the same game.
And, though it's a bit outdated, a fine game it still is. With comprehensive features, quality graphics, and addictive arcade gameplay, WSB '96 is great fun for anyone who doesn't own its predecessor. If you still haven't bought a baseball game for your Genesis, WSB '96 should be at the top of your list. Otherwise, join the ranks of the disappointed.
ProTip: Track the ball's speed by watching its shadow.
World Series Baseball 96 Downloads

World Series Baseball 96 download