World Series Baseball 98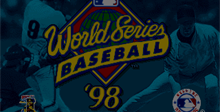 a game by Blue Sky Productions
Platform:

Genesis
See also: Baseball Games, World Series Baseball Games
Sega has a rare Genesis release that delivers its same classic baseball action in World Series Baseball '98. The only noticeable improvements for this year, however, are updated rosters and interleague play.
Sega should have tuned up the aging World Series gameplay, sounds, and graphics. If you're after your first Genesis baseball game, scoop this one up. But only baseball fanatics who can't live without the '98 rosters should spring for the upgrade.
ProTip: When you get ahead in the count while pitching, hurl a few junk balls to throw off the batter.
Other games by
Blue Sky Productions
World Series Baseball 98 Downloads

World Series Baseball 98 download
Another round of Saturn and Genesis baseball is set for action with World Series Baseball '98. Although there's little word on the Genesis game, in the Saturn version, Sega's bumping up the play by implementing a new polygon-based engine that will aid in simulating the real-life movements of the players with the help of motion-capture technology. The list of features includes all the pro teams, players, rosters, and rendered 3D parks. WSB '98 also added interleague play and enhanced commentary that includes more than 3000 new voice combos. Gamers can swing for the fences in Season, All-Star, and Playoff modes, as well as in a Home Run Derby. You can also track and store season statistics in over 10 categories.