Wrath of the Black Manta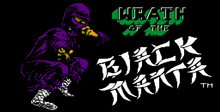 a game by Taito
Platform:

NES
Crime and kidnapping have put a death grip on New York, Tokyo and Rio. A solitary figure strives to squelch the misguided dealings of a bunch of underhanded terrorists bent on kidnapping innocent kids. Only the Black Manta possesses the powers that can save them.
Featuring:
Master the awesome power of ten magical, Ninpo martial arts
Gather clues that allow you to track down El Toro, the evil drug lord
Exterminate international terrorists
Sensational color graphics
Exciting soundtrack
Furiously challenging
Wrath of the Black Manta Downloads

Wrath of the Black Manta download
Wrath of the Black Manta, which is also known as Ninja Cop Saizou, was a game for the NES created by Taito in 1990. The main game character is a ninja called Black Manta, who has to save children from kidnappers.
In this game the player playing as the Black Manta have to go through few levels and to stop a gang and the evil organizer of all the cruel kidnappings, El Toro, using throwing stars and special abilities called the "Ninja Arts". The Black Manta has many powers that he gets after beating a level. The player can choose any pressing "start". These powers can help the Black Manta overwhelm enemies and level bosses more quickly. Part of the fifth (last) level is seen as a FPS from first person perspective. The player is also has to kill one of the bosses from the previous levels.