Super Mario Bros. 2 Cheats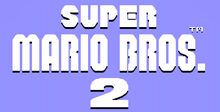 NES Cheats
Secret Warps
All of the warps in Super Mario Bros. 2 are listed below. You can easily warp to the end of the game with these tips:
WARP ONE:
In World 1-3, go to the vase that is located just past the door with a potion in your hands and you'll be able to pull down into it and warp to level 4-1.
WARP TWO:
Don't climb into the clouds in world 3-1. Instead, fall into the waterfall and go into the door. Place the potion on top of the vase, go into sub-space, and down the vase to 5-1.
WARP THREE:
There is a potion on the second part of world 4-2 near the whales. T ake the potion to the end of the stage. Jump on the whale's tail and go backwards until you get to the vase on the island. Place the potion on top and, in subspace, go into the vase to warp to 6-1!