Viewing games 1 to 3 (of 3 games)

See also:
Target Earth

Target Earth is about Earth's outcasts, who have become Cyborgs, returning from space to attack the civilization that...

Xardion

Xardion is an action platform game with a role-playing element where experience points could be accrued by defeating...
As the half-human half-cyborg flying machine of the title, you are faced with many levels to clear of enemies. The gameplay is horizontally scrolling. Your unit is able to fly and then hold at a certain level in space.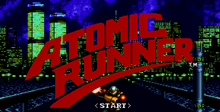 Atomic Runner is a side-scrolling platformer. You have to eliminate the enemies quickly and collect valuable items while they are still to the right of you.
Discussion

1