Bulls versus Blazers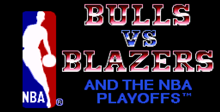 Genesis owners of Lakers vs. Celtics and Bulls vs. Lakers are already familiar with the beautiful graphics and intense sports action of Electronic Arts' excellent basketball games. Now, SNES players will also have the opportunity to lace up their high tops and hit the paint with Bulls vs. Blazers & the NBA Playoffs. It's all here: actual NBA players, their patented moves and grooves, fast-paced on-court action, and plenty of features that enable you to customize your game!
The Tip-Off
Bulls vs. Blazers features an impressive list of options, starting with all the play-off teams and their players from the 1992 NBA Championship series. Period lengths vary between 2,5,8, or 12 minutes. Play solo, head-to-head against a buddy, or team up with a friend against the computer. Set the intensity of the play and choose whether to have arcade action or simulation play, where players get tired and foul out. Finally, a handy password feature enables you to pick up tournament play at any time.
In the Paint
Bulls vs. Blazers is a great looking game! The characters are larger than their Genesis counterparts, and they look like their real-life personalities. Prince Charles slams home his monster dunks, and Air Jordan really soars. The background is loaded with fine details, such as the NBA logo on the court and a mob of fans and benchwarmers on the sidelines. An Instant Replay feature reruns action both forwards and backwards, down to the most minute movement. Unfortunately, the animation of the SNES version isn't as smooth as the Genesis version.
ProTips:
To avoid a walking violation, stop first, and then shoot.
Use the Instant Replay to study the defensive tendencies and find the path to the basket.
The action is a bit choppy, and it's often hard to tell which player has the ball in a crowd.
Play like the Pros
The game play is easy to pick up in this game and the controls are very responsive. Unfortunately, the stilted animation sometimes stifles the spontaneity of the onscreen reactions. How well your team fares depends partly on you and partly on the players. Each player faithfully performs according to his '92 season stats. It's expected that Michael Jordan will make a fast break, or Larry Bird will shoot that three-pointer. In simulation play, they eventually tire and need to rest. So, it's important to study your lineup and prepare for substitutions at any moment in the game.
A Contender
Bulls vs. Blazers & the NBA Play-offs is a well-crafted basketball game with plentiful options, sharp graphics, and solid game play which will appeal to sports fans of all calibers. Plus, it's a blast to play all your NBA favorites! If NCAA Basketball with its Mode 7 rotational scaling wasn't coming down the pike, Bulls vs. Blazers would easily be the first draft pick for SNES basketball gaming. It's definitely a play-off contender!
Download Bulls versus Blazers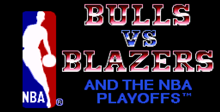 System requirements:
PC compatible
Operating systems: Windows 10/Windows 8/Windows 7/2000/Vista/WinXP
Pentium II (or equivalent) 266MHz (500MHz recommended), RAM: 64MB (128MB recommended), DirectX v8.0a or later must be installed
SNES/Super Nintendo/Super Famicom Screenshots