ClayFighter: Tournament Edition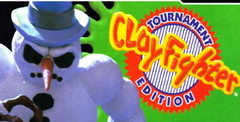 Click the "Install Game" button to initiate the free file download and get compact download launcher. Locate the executable file in your local folder and begin the launcher to install your desired game.
Hold the presses, pugilists! It's Judgment Day for Clay! The Clay Fighters are back and ready to stretch. Although this version seems to be more putty than punch, they're still rockin' 'em like the big boys!
Clay Melee
Clay Fighter Tournament Edition is an enhanced version of the original Clay Fighter for the SNES, with some cool new backgrounds and redone gimmicks. You get a new combo-counting feature (which is too small to see onscreen) and a brand-new, well-rounded Tournament system. The entertaining Tournament system that the game is named for enables you to fight with up to eight other players in a best-of-the-best Single Elimination, Double Elimination, or Sudden Death winner-takes-all round. You can still fight the computer to the end or brawl against a putty buddy, too.
ProTip: Do the Clown Pounder by charging down, then going up and pressing a Punch button.
Each fighter has their own range of special moves that range from deadly snowballs to lethal singing to stomping shoes. The humorous presentation of the moves (a certain diva comes flying at you butt first) certainly makes the game enjoyable, but the combo system still needs refinement. There are certainly two- and three-hit combos, but where are the six-, seven-, or eight-hit combos that would have broken this game wide open? And no new characters, who'll want to shell out the bucks for this game if they've got the previous one?
Silly Putty
The real feature that sets this game apart from others is its self-deprecating humor. This game has the welcome ability to poke fun at itself and other games in the genre. For instance, the announcer bellows "Finish Him!" a la Mortal Kombat (even though Interplay swears that there are no Claytalities in the game). The sounds all have humorous undertones, as when the Elvislike Blue Suede Goo mutters "Oh, Mama!" before each hit.
Helga can do a Valkyrie Slam by executing a fireball move (Away, Down-Away, Down, Down-Toward, Toward) and then hitting a Kick button.
Tiny is the best fighter to use to get to the end of the game. Keep using his Sucker Punch to nail opponents.
Watch your opponent's health bar. When they get low on health, they frenzy, so keep your defenses up.
Use quick punches and trap your opponent in the corner for an easy victory.
Tiny can also launch his Medicine Ball move vertically. Simply charge down, then go up and press a Kick button.
The graphics follow along the same humorous lines. All the movements of the sprites intersect with funny personality traits, so when the operatic Helga lets loose with some high notes, there's not a nonmoving part on her body. The backgrounds are similarly effective (Blue Suede Coo's background is the best in the game).
The sound is actually clearer and more entertaining than that of any other fighting game. Along with a full rendition of the Clay Fighter theme song, the announcer makes sure that no shot goes unsung, delivering quips that will keep your sides aching... from laughter!
To make Frosty's snowball maneuver go straight into the air, charge down for about two seconds, then charge up and hit a Kick button.
Charge Taffy back, then go forward and slap a Punch button for this Overhead Taffy Smash.
To do the Pumpkin Slam, just charge back, then go forward and press any Punch button.
Do a backward fireball move (Forward, Down-Forward, Down, Down-Toward, and Toward) and hit a Kick button to do a kneeling Hair Hit.
You can do a Blob Buzz- saw by charging back for two seconds, then going forward and pressing a Punch button.
Controlling your character will require patience, since many of the moves are not printed in the manual. You'll have to experiment with different button presses, but most are pretty simple.
The Goo, the Bad, And the Ugly
Good fighters will need all their skills. On the normal or hard settings, the game gets harder than baked clay, so you'll need to keep on your toes. But you'll find that it's hard to keep your concentration when you're laughing so hard.
All in all, CFTE has a lot of new features that should attract first-time buyers of the game, and if you're a Clay fanatic, you'll want both to grace your shelves. If you're not that gooey about Clay Fighting, however, then this one doesn't really justify having both. Although there are some great new features, they really should've been included in the first game.
Download ClayFighter: Tournament Edition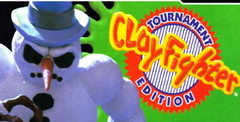 System requirements:
PC compatible
Operating systems: Windows 10/Windows 8/Windows 7/2000/Vista/WinXP
Pentium II (or equivalent) 266MHz (500MHz recommended), RAM: 64MB (128MB recommended), DirectX v8.0a or later must be installed
Game Reviews
Machine: SNES.
Manufacturer: by Interplay.
Clay Codes!
With this little trick, you can access an options screen that should be available without a code. No blood code, no stage select, just your usual speed and difficulty.
Select your fighters then press Select and Left at the same time.
SNES/Super Nintendo/Super Famicom Screenshots
Other Games by Visual Concepts