Viewing games 1 to 3 (of 3 games)

Leaping from the pages of the popular comic book come the Ex-Mutants. Choose Shannon or Ackroyd as you weave your way through the nuclear wasteland to battle the minions of the evil Sluggo and restore the human race!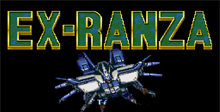 Engage in airborne combat with jump-jets and weapons of incredible power or link up with your cyber cycle for high speed ground attacks. Each step inches you closer to your goal and the fight of your life. You are Ranger X... A mysterious lone warr..
Discussion

1