Honey Select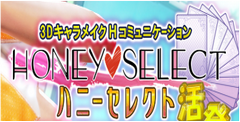 Click the "Install Game" button to initiate the free file download and get compact download launcher. Locate the executable file in your local folder and begin the launcher to install your desired game.
Erotic games are a big deal these days and one of the most famous ones is Honey Select. What makes Honey Select stand out is that this game is not pretending to be something else. This is a game that is all about good looking girls having sex and you get to be a part of that!
The Story
In a game like Honey Select you are not playing it for the story so let's not kid ourselves! This is a game where you play as a guy in a hotel who is just there to have sex any which way he wants with the girl of his dreams. One of the most interesting aspects of this though is that you actually create the girl you are trying to hook up with. The character creation tools in this game are just insane and you can create pretty much anyone that you want. There is a dedicated community to this game that makes all kinds of celebrities in the game!
The Presentation
Well, we just talked about the character creation that Honey Select offers. That and the whole game has a rather anime style to it. The kind of girl that you create is really up to you and the game gives you a ton of options to play around with in this regard.
They have managed to make a good looking (and rather graphic) game here and if that is what you are looking for then I do not think you are going to be what Honey Select is offering in that regard.
The Gameplay
Now, this is the main event of Honey Select! Honey Select is all about fantasy and you doing whatever you want with your dream girl. You create the girl and then you get to have sex with her in pretty much every way you can think of, heck you will probably even learn a thing or two by playing this game!
Honey Select does have different personalities for the girls so some might be up for certain things and others might now. You can be all about making sure they are receiving pleasure or it can be all about you! The game is weird in that you control "the action" with the mouse and once you are ready you can "pop" where you like. That is all there really is to the gameplay of Honey Select. It is certainly not the kind of game that is for everyone that is for sure! However, if you like your erotic games a bit more on the hardcore side, then you will like the gameplay that is on offer here.
Final Thoughts On Honey Select
Make no mistake about it, Honey Select is a very graphic kind of sex game and If you are easily offended you do not want to play it. If you want a game that is just all about sex then I must say that this game is probably going to be a 10/10 for you.
10
The way you can create any woman you want and the number of things you can do with her is crazy so you will not get bored very quickly. If you want an erotic game that has some substance though, Honey Select is not for you as it really is just all about the sex.
Pros:
Character creation is very impressive
It allows you to make anyone you want
The game has a ton of sex positions
It is not shy about what it is about!
You can make a celebrity to hook up with
Cons:
The game really is just all about having sex
Not much gameplay or story
Download Honey Select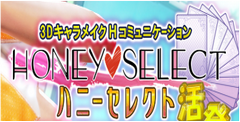 System requirements:
PC compatible
Operating systems: Windows 10/Windows 8/Windows 7/2000/Vista/WinXP
Game Reviews
Less is more
Honey Select is probably one of the most interesting titles in the eroge world. The clear representation of less is more in games, except that this game actually has a lot of content to it.
There's no plot to the game, you're meeting up with a woman to have sex. That's about all there is to this game's plot. But to be honest, many of the people that play eroge games do it for the sex scenes.
In Honey Select, it's all about these scenes, and you can have them be however you want to. This game allows you to customize the character, or characters, you're going to have sex with however you want to.
Thanks to the super-detailed controllers, the whole experience is very interactive. You can choose how to do what and when, unlike many eroge titles that just give you a shortlist of interactions.
Thanks to the customization the game offers, creating an original character to fulfill your desires is easier than ever before. There are sites online that offer guides and models on how to create different characters, from video games, shows, and anime. It ends up being the ultimate eroge experience when you can have intercourse with any character you want.
But the customization would be nothing without the amazing visuals the game delivers. The models look amazing, and the physics are realistic and nice looking. Honey Select doesn't have a plot, but it compensates with the amazing customizable experience it offers.
Honey Select is one of those games that many people have heard about, been warned about and also have been curious about. Honey Select is brought to us by the folks at Fakku who are known for their "adult" entertainment. This is actually the first game they have published and it got a lot of attention, why? Well because having sex with women is the goal of Honey Select!
What Is The Story?
Wait, Honey Select has a story? Well, it kind of does. The idea of Honey Select is that you meet up with a girl in a hotel and you need to… well, you know. That is the basics of the story and let's face it, you are not playing a game like Honey Select for its story.
Create Who You Want
The first thing that you will be tasked with doing in Honey Select is creating a lady for you to try and have your way with. The character creation tools in Honey Select are just insane. If you thought a game like WWE 2K19 went over the top with the amount of detail you can get into when creating a character, you have not seen anything yet. Of course, you can make her breasts and butt as large as you want. Honey Select though goes much deeper than that. The character creation is split between her top half and bottom half and it is like you can change every inch of her body. Now the character, no matter how you make her is always going to have a kind of anime look to her, but if you have a celebrity crush then you can more than likely make a pretty good representation of her in Honey Select.
Getting Down To Action
As you have guessed the overall goal of Honey Select is to have sex with the girl you have created. It is kind of like you are those two nerdy dudes from Weird Science in a way! Anyway, once are in the hotel room with her, you get to interact with her. The number of positions and things you can do with her a truly crazy. Some of this stuff would even make the most hardcore adult erotica fan blush! If you can think it, you can probably do it in Honey Select. Pleasure is what all the game is about and you will need to move the mouse to "simulate" you guys having sex. You can change positions and then at the end, you can decide where to finish if you know what I am saying. You can decide to have it be all about her pleasure or your pleasure it is up to you. Ach girl that you encounter and create is going to have a different personality so some might be into pretty much anything you want to do and others might be a little more reserved.
Honey Select is certainly not a game for everyone and I would imagine most people would play it more out of curiosity rather than to get any kind of sexual satisfaction from it. There is not much at all in the way of gameplay here. However, with that being said, the character creation suite is truly remarkable and the amount of options and freedom of choice that you have when creating your dream woman is truly staggering. Chances are you will spend more time doing this than actually playing the game.
5/10 (if you are playing this as an actual game and this is just for the creation)
10/10 (if you want a game that is just all about sex and not shy about it!)
Pros:
Character creation tools are very in-depth
You can create anyone you have a crush on
There are lots of "positions"
You will be amazed that this game even exists!
Cons:
It is just about sex
Not much actual gameplay here at all
Similar Games
Viewing games 1 to 15