Open Ice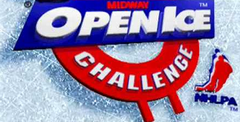 a game by
Williams
Genre:
Sports
Platform:

Playstation

Editor Rating:

7

/

10

, based on

3

reviews
Rate this game:
Open Ice skates straight from the arcades to the PlayStation with that same raucous two-on-two action that made NBA Jam a classic. Playing with up-to-date rosters that include all the NHL players, gamers duke it out with simple but effective controls that supply passes, shots, checks, turbo, and more. Scoring three goals sets your player "on fire," and of course tons of codes unlock secret players and power-ups. Graphically, the game's remarkably close to the arcade version, and even at this early stage, Open Ice is a blast.
Game Reviews
Williams' latest sports hit, NHL Open Ice, has arrived on the PlayStation, and it is crammed with ail the hard-hitting excitement of the arcade original.
The best way to describe NHL Open Ice is to call it NBA Jam on ice. Players assume control of digitized versions of two of their favorite NHL stars, who zip around the rink, executing pin-point snapshots and wildly exaggerated super moves. Fully licensed by both the NHL and the NHL Players' Association, Open Ice's players are governed by their real-life attributes.
As in NBA Jam, Open Ice's players become "on fire" after executing a sufficient number of checks, assists and goals. Once on fire, a player becomes virtually unstoppable and can scorch the net with flaming shots.
Williams continues the insanity with tons of hidden characters, humorous score-board clips, a Big Head Mode and a unique Super Goalie Mode. The codes found in other Williams games were always entertaining, and you can be sure that this game will be no exception. You can also. bet that there are a number of secret characters thrown in to keep things interesting. Williams also included a turbo button and an enlarged puck to keep the action fast and furious.
Like NBA Jam and NBA Hang Time, NHL Open Ice is more of an arcade game than a true-to-life hockey simulation. This being the case, it may appeal to arcade fans more than fans of the statistical, strategic side of the game of hockey.
NHL Open Ice takes full advantage of the PlayStation's CD audio by including commentary by broadcasting great, Pat Foley. The game's audio is further enhanced by the incredible DCS Sound System, so players will really feel every brutal cross check.
Because the action is so intense, players will find themselves accumulating scores which are incredible for any game of hockey. The two-on-two aspect can also take a bit of getting used to for those who rely on the passing game more than the drive and shoot. But this game is sure to be a refreshing change from the less intense, slower-paced "simulations." Nevertheless, all hockey fans should be interested in any game which captures the emotional side of hockey. Players who favor insanely fast action and flashy moves over strict sports simulations definitely will want to check this one out.
MANUFACTURER - Williams
THEME - Sport
NUMBER OF PLAYERS - 1-4
If you were waiting for the thrill of Gretzky but are reluctant to buy an N64, there is still hope for you getting a quality hockey title this year. Even though it doesn't have all the bells and whistles of the N64. Open Ice is a perfect replacement. Many of the same features exist, such as the special effects of burning goals with rocket shots and checking abilities galore. With the optional multitap, up to four players can simultaneously play on the ice at the same time. With four-player action and other great features, what more is needed to give PS owners a thrill nearly equal to the celebrity-endorsed title? Hockey junkies who own a PS need only to gather a few friends for this hard-checking experience.
Similar Games
Viewing games 1 to 8