Viewing games 1 to 11 (of 11 games)

See also:
Star Trek: Star Fleet Academy

You watched every episode of the "real" Star Trek religiously. Kirk, Spock, Chekov, Sulu and the others were more...
Moto, a once peaceful tropical paradise and the shining jewel of the Algo Star System, is facing terrible oppression at the hands of an unknown evil. Strange, vicious creatures infest the countryside and people are afraid to leave their villages. Its up to you to uncover the mystery behind these grim circumstances and help restore Moto to its former splendor.

See also:
Shining Force 2

In the eerie Cave of the Past, a mischievous thief tampers with the mystical Stones of Light and Dark. The Stones...

Soleil

Crusader of Centy is an Action Role-Playing game, developed by NexTech and published by ATLUS, which was released in...
It's been a millennium since Laya's hordes battled Orakio's cyborg armies. And civilized man was almost destroyed. But the Dark Forces still remain. Embark on a journey so vast, it spans the lives of three generations. Begin with Maia, spirited away by a winged dragon on your wedding day. Experience one of the four endings that will surprise new and former Phantasy Star players alike.

See also:
Shining in the Darkness

Vanish the fiendish forces of Dark Sol and restore peace to the enchanted Kingdom of Thornwood. Search for the...
Launch into the biggest RPG ever on Genesis! This is the explosive magic-and-monster packed FINALE to the incredible Phantasy Star saga. An ancient, hideous Dark Force stalks the Algol star system. You, a young hunter, are destined to become Motavia's greatest warrior and strike the death-blow that destroys evil FOREVER!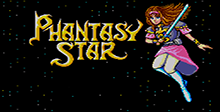 A new breed of adventure game that could set the standard for future RPG titles.