Viewing games 1 to 3 (of 3 games)

See also:
Art of Fighting

You play as Ryo, who has come to South Town in search of his kidnapped sister. You'll have to fight through a roster...
Shinobi 3: Return of the Ninja Master is where the game really shines. You either throw throwing knives at enemy ninjas, or slice them with your katana.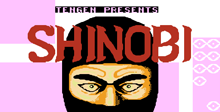 You are Jo Musashi: Master Ninja. Your mission is to rescue the children of the world's leaders from the underlings of the feared Ring of Five, a gang of evil terrorist Ninjas.