Sonic Adventure DX (Director's Cut)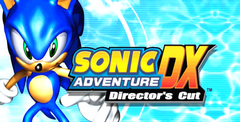 a game by
Sonic Team
Platform:

GameCube

Editor Rating:

6

/

10

, based on

1

review
User Rating:

8.0

/

10

-

1

vote
Rate this game:
See also:
Sonic Games
Rumors have circulated for years about two of todays most talented developers Mario maker Shigeru Miyamoto and Sonics popuji Naka working together on a secret game project, mainly because Naka-san often gives props to Miyamotos work. So, while that secret project has yet to materialize, its hardly surprising that Nintendos systems have become the (so far) exclusive new playgrounds for Segas speedy blue hedgehog.
Thankfully, after a subpar GameCube debut in Sonic Adventure 2: Battle, Segas mascot returns in a slightly enhanced version of the original Sonic Adventure (which launched with Dreamcast in 1999). Unlike its sequel, this game now sub-titled DX: Directors Cut keeps the superstar rodent at center stage. (Battle, on the other hand, gave equal playtime to all of Sonics superbuds, but only Sonics levels were superfun.)
The hedgehogs back, doing what he does best: foiling the plans of his egg-shaped, walrus-mustachioed nemesis, Dr. Robotnik, who has summoned a giant water monster called Chaos. Robotnik plans to turn Chaos into a 40-story killing machine by fueling him with Chaos Emeralds, so its up to Sonic and his pals (more about them later) to find the emeralds first.
If you never played Adventure on Dreamcast, or its Cube sequel, buckle up in this game, speed thrills. Backgrounds blur and levels corkscrew as Sonic bounds from platform to platform or boosts to max speed to outpace environmental hazards such as a titanic killer whale. Adventure DX features a wide range of locales, each with multiple objectives. In one wicked tornado level, you need to pounce on trampo-line-like devices to skyrocket about. And when Sonic isnt retrieving gold rings or scouring for Chaos Emeralds, hell face off against Robotnik and different Chaos-monster forms.
Like the title says, the game also includes adventure elements, but theyre pretty basic; they mostly involve moving objects from point to point to access new stages.
Sonic also finds upgrades along the way, such as new shoes thatll help him gain enough steam to conquer those mammoth loop-de-loops familiar to series vets. Sonic will also meet up with five familiar and not-so-familiar faces (see sidebar), who eventually become playable characters.
You might be asking, What makes this game different from the Dreamcast version? The answer: not much. You can link up your Game Boy Advance to raise those cute and loveable Chao creatures for Adventure DXs racing minigame. And Sega is promising slicker visuals (in our version, the characters looked improved while most of the game appeared the same) and 50 new mini challenges (time trials, grab the rings, etc.). But its a bummer Sonic Team didnt develop new areas for these additional missions, and you dont need to complete them to open up Adventure DXs much cooler ending.
Were a bit confused about why Sega decided to release the worst of the two Sonic Adventure games first, but hey, Adventure DXs arrival is better late than never.
Download Sonic Adventure DX (Director's Cut)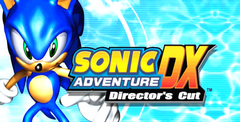 System requirements:
PC compatible
Operating systems: Windows 10/Windows 8/Windows 7/2000/Vista/WinXP
Other Games by Sonic Team