The Daedalus Encounter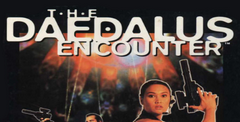 a game by
Mechadeus
Platforms:

PC,

3DO

Editor Rating:

7

/

10

, based on

2

reviews
Rate this game:
Having played through the slow, buggy, and annoying-as-hell PC version of The Daedalus Encounter a few months ago, I wasn't exactly expecting the 3DO version to butter my muffin, if you know what I mean. But I'm pleased to report that Panasonic has done one hell of a conversion job on this sci-fi extravaganza starring Polynesian sex kitten Tia (Wayne's World) Carrere and all-American stud boy Christian (Who?) Bocher. If you never saw the PC version, think of The Daedalus Encounter as The 7th Guest in space, with plenty of point-and-click puzzles and a couple of arcade-style shooting sequences to get your adrenaline pumping.
So what makes the 3DO version so much better than the PC version? The video, for starters. On the PC, the interface took up most of the screen, with jerky full-motion video in a quarter-screen-sized window. On the 3DO, the entire screen is filled with crisp, clean, smooth FMV-sounds like I'm talking about beer-and the interface only appears when you call it up. The 3DO version also has a better save-game system and additional scenes that were removed from the PC. (This version spans four CDs, the PC version "only" three.) The verdict: An excellent puzzle game with FMV that's fun to watch.
Download The Daedalus Encounter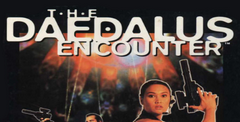 PC Download
System requirements:
PC compatible
Operating systems: Windows 10/Windows 8/Windows 7/2000/Vista/WinXP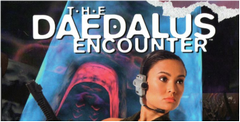 3DO Download
System requirements:
PC compatible
Operating systems: Windows 10/Windows 8/Windows 7/2000/Vista/WinXP
Game Reviews
Here Are A Few Sad people who might go out and buy this title just because it's got Tia Carrere (the "babe interest" from Wayne's World) in a very tight-fitting, low-cut. black leather thing. To be honest, from the marketing gumpf we've seen so far, I'd say that Virgin seems to be relying on this tactic quite heavily. All the promotional pictures have the (admittedly extremely attractive) heroine of the game, slinking around holding a big gun and looking dead cute... but there has to be more to it than this, surely?
The programming team behind the game is Mechadeus, which you may have come across before. Although relatively new to the pc gaming market, the team's first game. Critical Path, received rather a lot of media attention. Admittedly, the attention wasn't particularly positive because the gameplay was basically pretty crap, but it was very different for its time - mixing 3D Studio rendered back-drops with Quick-time movie sequences, which were super-imposed over the top.
Now, whilst Daedalus Encounter is by no means a sequel to Critical Itoth, it does share a lot with it when it comes to graphical style and content.
Something new?
The basic idea here is that this is an "interactive movie" (arrrrggghhhhh!!!), which is interspersed with action and puzzle sequences. Imagine if you will a concoction produced from combined juices of 7th Guest, Journeyman Project and Creature Shock, involving single-screen, spatial-reasoning puzzles, a bit like those in 7th Guest, and extremely simple, first-person perspective shooting scenes.
You play the role of Casey, a 22nd century commando type who has been so severely mutilated during the wars that his body has been discarded and his consciousness transferred into a highly advanced floating probe thing which seems to act a bit like a miniature R2 D2 with no legs, er. if you see my meaning. Accompanying you are two pals - Ari (who is played by Tia Carrere) and Zack (some bloke called Christian Bocher who is apparently a bit famous, but not very) with the three of you having landed jobs as a space-ship salvage crew. However, just as things seem to be going well, you come across a weird organic spacecraft, which accidentally collides with your own ship and destroys it. Fine, fair enough... any good salvage crew can commandeer a new ship. Unfortunately, though, the organic-craft is so incredibly alien that you and your chums just can't work out how to fly it... and only happens to be on a collision course with a nearby star. Now, as you can imagine, this is cause for a suitably large degree of concern and is. predictably, where you take over the adventure.
When we saw Daedalus Encounter for preview it was at an extremely early stage of development. However, the Quicktime video footage is of a very high quality, even now, running in near full-screen in vga an in a window about a third of the size of th screen in svga.
Hopefully we'll be able to bring you a review of the game very soon, along with an exclusive interview with Tia Carrere...