Triple Pllay 2000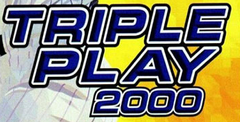 a game by
Electronic Arts
Platform:

Playstation

Editor Rating:

9

/

10

, based on

2

reviews
User Rating:

10.0

/

10

-

1

vote
Rate this game:
Those who thought Triple Play 99 was a bit dull aren't alone. The producers of Triple Play 99 felt that they had focused on simulation and realism so much that they had forgotten that playing the game was supposed to be fun. So the emphasis for Triple Play 2000 has been shifted, not necessarily away from simulation and realism but toward making the game simply a whole lot more fun to play.
One of the ways the team at EA chose to do this was by increasing the number of times the batter makes contact with the ball. In part this has been accomplished by adding more frames of contact to each batter's swing. Keeping within the philosophy of more is better, the developers decided to make hits, in general, go toward the wall more often than not.
From an Al standpoint Triple Play 2000 is going to be a lot cleaner. There were some obvious baserunning Al problems in last year's Triple Play that EA says have been addressed.
In Triple Play 99 everyone, whether a fan or not, agreed that the frame-rate was a bit on the low side. It was actually running in the neighborhood between 15 and 2ofps (if you're unfamiliar with frame-rate neighborhoods, 15-20 fps could be considered the ghetto). Triple Play 2000 however, is running at a constant 30 fps, which is average but when compared with last year's title looks fantastic. And so do the new physical and facial animations. EA Sport's Triple Play 2000 producer, Mark Dobratz, explained, "New emotional reaction animation captures the intensity of the Major Leagues [while] pitchers in Triple Play 2000 will not only have unique pitch animation for different pitches, they will receive signals from the catcher in their own unique styles as well."
Some of the best animations range from the disappointed look of a pitcher who just served up a meatball that was blasted over the wall to the jumping, fist-pumping batter who sent the pitch to a new zip code without using a stamp.
While Triple Play 2000 looks well on its way to becoming a solid baseball game, it'll be interesting to see whether EA can walk the tightrope of fun and simulation well enough to appease serious baseball sim fans and the average fan alike.
Download Triple Pllay 2000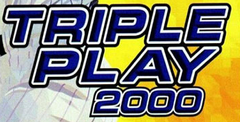 System requirements:
PC compatible
Operating systems: Windows 10/Windows 8/Windows 7/2000/Vista/WinXP
Game Reviews
First things first: Thankfully, EA Sports tuned up the molasses-like frame rate and quirky A.I. hiccups that, in the long run, ruined Triple Play '99. Triple Play 2000 will earn a lot more playing time from baseball fens with its exciting, action-packed gameplay and glitzy graphics.
Climbin' to the Top
With the flaws that marred Triple Play '99 smoothed over, Triple Play 2000 returns to the ballpark with a strong lineup of features. Above and beyond the usuals, gamers will be able to open or dose their batting stance, perform double switches, and compete in multi-season play (though MLB 2000 will up the ante with its revamped Spring Training mode).
As far as the action goes, Triple Play has a much livelier, snappier pace than its predecessor, and the high-scoring gameplay focuses more on fun than realism. If hardcore real-life baseball's important to you, Triple Play isn't your game--but if exciting, challenging games filled with plenty of hitting sound sweet, this diamond's for you.
On the control side, pitching, batting, and base-running function smoothly and naturally, but the battings a little basic--guessing the pitch location for a power boost (as you can in MLB 2000) would've added a lot The fielding's generally responsive, but grounders require too much precision to collect and you're stuck controlling the wrong player too often.
Ballpark Beauty
As always, Triple Play makes baseball look beautiful. The well-modeled players are backed by a fluid frame rate as they bust off cool animations like running throws and dust-clouded slides. The slickest addition, though, is the awesome facial expressions--at idle moments the camera zooms in on a bored fielder or a concentrating batter. Detailed, nicely lit stadiums and on-the-money camera cuts also bring the ballpark to life with a TV-stvle flair.
Jim Hughson and Buck Martinez return to the announcer's booth with same style of detailed, accurate commentary that blew gamers away they first debuted on the PlayStation. They do occasionally goof, not criminally. On the field, the game's realistic audio effects sound cool, but the silly new arcade Sounds (whooshing fly balls and slapstick foul balls) grate on your ears after a while.
League Leader?
Because Triple Play hit the diamond before MLB 2000 was ready to review, it was too early to pick a clear PlayStation leader at press time. The race should be close again. Triple Play gets the nod for graphics and fast-paced, high-scoring action, while MLB's features look more exhaustive and its gameplay more sim-like. If you're hardcore about baseball realism, you may want to wait and check out MLB, but you can't go wrong with Triple Play's fun, fast action.
ProTips:
If you tap the directional pad more than three times to take a lead from the bag, the CPU's pitcher wffl try to pick you off. You'll know the throw's coming when you see the catcher suddenly stand up. Cheap, huh?
Resist the temptation to go for a power-swing home run on every pitch-wait for a batter you know can clock the ball. Otherwise, try for singles with the rest of your lineup.
Strike out CPU batters by setting them up with balls low and outside. Notch strikes with high and tight pitches, especially curves and sliders that break in.
When you have a man on first and less than two outs, lay down a sacrifice bunt to move the runner Into scoring position.
When your pitcher's energy drops to about 55 percent (pause to check, it's time to warmup a reliever and get him in the game.
When fielding or running the base paths, using speed bursts is crucial to success. Constantly tap X to keep your players hustling.
Graphics
Triple Play 2000's sharp-looking players and stadiums come to life with realistic animations and good camera work, especially the cool player close-ups. The frame rates solid, too.
Sound
As always, Triple Plays killer two-man commentary makes you feel like you're watching a game at home. The strong onfield sound effects, though, are somewhat tainted by new oddball audio clips that belongs in a carnival, not a ballpark.
Control
Triple Play's controls are generally tight, but there's definitely room to improve. The pitching and base-running perform smoothly, but the batting, while easy to use, is a tad too basic. Fielding can also be a handful.
Fun Factor
Putting the ghost of Triple Play '99 to rest. Triple Play 2000 steps up to the plate with an exciting, action-packed ballgame and plenty of flash. It's not the most realistic baseball game, but its definitely fun and deep enough to hold your attention.