Ultraman: Towards the Future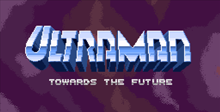 Click the "Install Game" button to initiate the file download and get compact download launcher. Locate the executable file in your local folder and begin the launcher to install your desired game.
Number of Levels: 9
Theme: Action
Difficulty: Easy
Number of Players: 1
Available: December 1991
250 ft.terrors!
Since the first day a giant rubber monster devoured Tokyo, a countless stream of herculean heroes have stepped forward to battle their city smashing ways. Now you can assume the identity of one ot the greatest monster mashers in history as Ultramah, an intergalactic nasty neutralizer! The video game for your Super NES has you battling a wild cast of nine monsters in a head-to-head kick and punch-em-up action contest with Tokyo as the backdrop!
Your lasers
At your disposal is an assortment of different laser options. All are useful for wearing down the monsters, but only the fullycharged blast will destroy them!
Gudis
Be careful! This Veggie has laser beams, a swiping tail and its tentacles that do big time damage!
Bogun
This nasty gastropod has the ability to spray a toxic gas, as well as flog you with it's whip-like antennae!
Degola
The god of the Aborigines can fire lasers from its paws apd use its spines as a rolling attack!
Barrangas
Barrangas breathes alien gases and has a huge tail with enough power to knock you off your feet!
Killazee
You've finally reached the main Boss! This creature will attack with a variety of weapons, including firey breath and huge blasters built into his arms. Killazee will also use his deadly horn to ram Ultraman as he leaps from side to side!
Gudis 2
This veggie has gone hard core, having a pure energy clone attack with a strong club-like tail!
Zebokon
Born in the swamps, this firebreathing nastie will ram you with its head and whip you with its tail!
Majaba
One of the largest bugs you'll ever meet! Majaba has eye lasers and a habit of leaping from side to side!
Kodalar
This brute not only can fire lasers across the ground, but also reflects your lasers back at you!
Download Ultraman: Towards the Future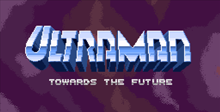 System requirements:
PC compatible
Operating systems: Windows 10/Windows 8/Windows 7/2000/Vista/WinXP
Pentium II (or equivalent) 266MHz (500MHz recommended), RAM: 64MB (128MB recommended), DirectX v8.0a or later must be installed
Game Reviews
Considering the success of Ultraman on the Super Famicom, the most logical thing to do is to come out with a sequel. Even though the name suggests that there have been plenty of sequels, this is not the case.
Ultraseven is the name of one of the several spawns of the Ultraman series. Here lies the same plot - helping the Earth by defending it from the relentless giant rubber monsters that do their hardest to stomp out Tokyo!
The game play is just like the original version, with all of the punches, kicks, and throws. However, much more has been improved: if you fight in the sunset, the whole playfield, including characters, will be of a red tint - along with other neat and fancy effects. Your laser assortment consists of new weapons, like the removable blade from Seven's head! Be alert for this sure - fire beast buster!
Ultraman is coming to the video game world. This is Bandai's first Super NES title and it looks like it'll be a sleeper hit. You must battle against eight different monsters who are terrorizing the land. You're not just a normal super hero though, you have the ability to increase your size to gigantic proportions. You can use a variety of special attack moves like roundkicks, uppercuts, and jump-kicks as well as defensive moves like back flips and somersaults. To finish off the monsters you must use a special laser technique. Great animation of the huge characters and great sound make this a pleasant cart.
Bandai is bringing one of Japan's famous animated characters to the Super Famicom. Take on giant 25,000 ton dinosaurs, lizards and monsters in this side view action game. Punch, kick, flip and throw the beasts to stop them before they destroying the country.
Become a hero and protector of the peace in Ultraman: Towards the Future. This 1990 release is a thrilling action adventure by an Australian team. Take part in the action as the humanoid, Ultraman intercepts a monster as it seeks to destroy an astronaut. On earth, the monster, Goudis, re-emerges as a form of a virus called UMA or Universal Multipurpose Agency. Ultraman then combats the monster and battles various threats to peace on the planet earth. The object of the game is to weaken an opponent and use "burning plasma" to rid him from earth. Although the action is limited to only boss battles, there are 10 various stages within the game. The player must win fights in order to beat the game. This fighting game is compatible with Super Nintendo Entertainment System platforms.
SNES/Super Nintendo/Super Famicom Screenshots