Viewing games 1 to 2 (of 2 games)

See also:
Ballz 3D

Do you have Ballz? Well, you will need them in this knock down, drag out game of blood and brawling action.

Blaster Master 2

This is an action platform game. You control S.O.P.H.I.A. that can roll, jump, and fire two different kinds of...
VectorMan is back, and the robot sludge barge pilot is more awesome than ever! New morphs, power-ups, and special weapons equip VectorMan to battle with Earth's most prolific enemy... mutant insects! Change into the shape of mutant insects with the special Assimilation Morph. Blast enemies with VectorMan's deadly Laser Cannon, Pulse Beam, Fire Ball and Super Shot! Experience fluid, real-time "Vector-Piece" animation, pulsating sounds and vibrant graphics through 25 levels of gameplay!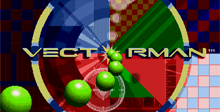 By the year 2049, Earth has been turned into a toxic waste dump! Humankind has fled into space leaving behind an army of mechanized "Orbots" to clean up the mess! But when the Orbot leader, WarHead, goes haywire and starts a robot revolt, only a lo..
Discussion

2