Xena: Princess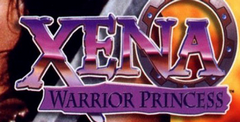 a game by
Titus
Platform:

Playstation

Editor Rating:

7

/

10

, based on

1

review
Rate this game:
People say:
4
Xena has one major downfall: control. Turning requires a U-turn motion--you can't take small steps in one direction or another. So, if you're on a small platform surrounded by lava and have to change directions to make a jump, you're in serious danger of falling in and losing your life. It's a huge problem if it's the fault of the control that you keep dying repeatedly. Xena is well-designed for a licensed game. Using the Chakram is especially cool and enables you to send a feeler out into a level to see where things are (as far as you can guide it, that is). Combat feels much like Golden Axe, and there's a few puzzles to solve as you go. Some are really maddening, and you can't tell if the tips you're being given are vague "riddles," or being told what you need to do, which can be frustrating. Graphically, Xena looks good and the levels are nicely laid out. Only problem is they're too short until the end. There are only a little over 20 levels so you could probably get through this one in a weekend. Lava kills you too quickly, and it's hard to jump back out because of the shoddy control. Why on earth does Xena not have true analog control? You can choose either running or walking for both the D-pad and analog, there's no in-between. Too bad about the control--this could've been a decent game otherwise.
4
I don't watch the show, so I can't relate to all the guffawing around here about the lesbian subtext in Xena; nor can I appreciate any sort of camp kitsch because the franchise takes itself so seriously. So this was simply a sub-par 3D beat'em-up with blocky, poorly animated graphics. Throwing the Chakram is cool but the novelty wears off quick. The later platform levels will really frustrate you due to the horrid controls and slippery gameplay.
2
This is an awful, awful game that must be avoided at all costs (unless you're a big Xena fan who absolutely cannot live life without playing out some amazon-sappho interactive adventure, no matter how bad it is). Xena has the two things that'll kill any 3D adventure game: bad camera and bad control. The game-play itself is really monotonous and boring. Other stupid problems plague the game as well, like fires that don't burn you and polygon clipping.
4
Xena isn't the worst licensed game I've ever played. Nor is it the best. This leaves it somewhere in the middle--where average games live. There are some parts that are fairly enjoyable, but there are also parts that are tedious as hell...or downright laughable (like when Xena yodels). The main problem is the control. It's just not responsive enough, and often leaves me wanting a quick turnaround button. Fans of the show might like it--I don't.