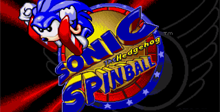 Justin Garcia CoolDuelist posted a comment: 10 years, 1 month ago

That's basically what this game is, PINBALL! Stop Dr. Eggman as usual except the stage are pinball stages and sonic is the pinball. it's pretty cool but you need skill to beat the game. This Game is recommended by me, JGCD.
jeremy posted a comment: 9 years, 9 months ago

how can i get this game man ? pls. reply yeahhhhhhhhhhhhhh!!!!!!!!!!!!!!!!!!!!!!!!!!!!!!
Ken posted a comment: 9 years, 7 months ago

I just love this game!!!!
Q posted a comment: 9 years, 2 months ago

Great game, but this game is awfully difficult..
Eugenia posted a comment: 8 years, 12 months ago

theres too many people to defeat!!!!!!!!