Big Sky Trooper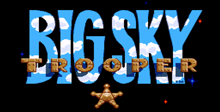 a game by LucasArts
Platform:

SNES
FIRST IMPRESSION
This is an RPG? I don't know about that. There are definitely role-playing elements, but I view this game as more of an action game. There is a little bit of originality but slugs from outer space is a little rehashed from some B-grade horror films. It gives me the creeps on certain nights.
BEST FEATURE
There is no best feature considering the whole game concept needs work. This version is incomplete, however, and maybe it will get better.
WHAT'S MISSING
Fun. This game is geared for a younger RPG crowd (like 3-year-olds) and maybe they'll enjoy it.
WILL YOU LIKE IT?
I can't see many older players enjoying this game with such games as Final Fantasy II and III, and Ogre Battle out there. This game is pretty unique in some ways which some people might find enjoyable. The only thing going for this game is its uniqueness.
MANUFACTURER - Lucas Arts
DIFFICULTY - Easy
THEME - ACTION/RPG
NUMBER OF PLAYERS - 1
Big Sky Trooper Downloads

Big Sky Trooper download
Big Sky Trooper is a sci-fi adventure game, produced by JVC and LucasArts for the Super NES in January 1996. The evil Space Slug forces, led by the Sultan of Slime, have launched a sudden attack on humanity, quickly occupying the majority of planets in the galaxy, and forcing the Sidereal Shock Troops to recruit soldiers to counter the threat.
Once selected, it is up to your Big Sky Trooper, piloting a FIDO class starship, to engage the slugs in space and in planetfall and thwart their plans to destroy mythical galactic devices and conquer humanity.