Bonanza Brothers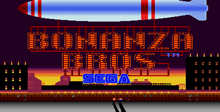 a game by Sega
Platforms:

Genesis

Sega Master System
Find the loot hidden in a multi-leveled building. Get by the security guards and make it to the roof before the countdown timer runs out!
Bonanza Brothers Downloads

Bonanza Brothers download
Sega is bringing to the MD a conversion of a little seen coin-op title. Closely resembling the old Atari 2600 Keystone Kapers, BB is a 1 or 2 person cooperative, split screen chase-and-shoot game. You are the robbers in this game, and your goal is to break into buildings gather the treasures and get to the roof to make your getaway. If the security guards or police get in way they will have to be eliminated. It's all in fun though, and tastefully done!
This game is very good and all about timing and sneaking around guards in the search for loot!, Be warned though because it takes time to get the hang of it.