Championship Bowling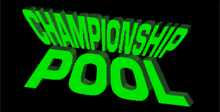 A fast-paced, track-ball-controlled jaunt into this ageless sport of strategy and precision.
Other games by
Mentrix Software
Championship Bowling Downloads

Championship Bowling download
Some guys took Boogie Woogie Bowling, did a bit of character's editing and words' rewriting - as a result, we have Championship Bowling or the situation could be vive versa, who knows? Well the point is the same, taking part in a bowling competition. Strike the skittles with the balls and that's it. By the way, one of the most difficult rivals here is CPU. Enjoy it!