Chester Cheetah: Too Cool to Fool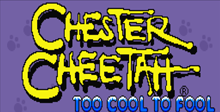 a game by Kaneko
Platform:

SNES
See also: Chester Cheetah Games
The first Chester Cheetah didn't exactly set the world on fire, and this second one is just more of the same. If you are a die-hard Chester fan, then this game is for you otherwise just don't expect too much.
Chester Cheetah: Too Cool to Fool Downloads

Chester Cheetah: Too Cool to Fool download
Guess it was only a matter of time. Chester Cheetah, reigning snack food king and former dude in a loose mood, is behind bars -- zoobars, that is. Mean Eugene the Zoo Keepin' Fiend has banished Chester to a life of gawking onlookers and captivity. However, since Chester's Too Cool to Fool, he's busting out of Four Corners Zoo and heading for the land of the free, the home of the brave-Hip City.
The Cat's Out of the Bag
Team up with cool cat Chester for five levels of vertically- and horizontally-scrolling action/adventure. A hop 'n' bop style of play with cartoon-style graphics and tunes puts you in the mood. Chester pulls a few trademark moves, including "geeking" out and yelping "ayayayaya" when he's hit.
To break out of the zoo, Chester has to get on his bad bike and ride. He ordered an ultra-cool "chopped hog" from a catalog, but Mean Eugene hid the parts all around the zoo. Ya baby, you've got to search the Park, the Monkey Pits, the Gator Alley, the Hidden Caves, and the Bird Houses to find the missing pieces of Chester's motorcyle. Along the way, Chester's gonna want to hang with some of the animals in the hood, such as Funky Monkey, who'll help bust him loose. Other four-legged critters, such as rollerblading tortoises and boxing-gloved kangaroos, are bad news for our righteous kitty.
Snacks? You bet. Chester's gotta keep his strength up by grabbing Paws, of course, wherever and whenever he can find them. He's also on the lookout for cool sun-blockin' Shades, which give him temporary x-ray vision; Sneakers for super speed; a Skateboard; and his Guitar, to boogie bad guys into the ground.
This game makes the most of Chester's popularity, and leads him down the path to a radi-cool new career.