Conflict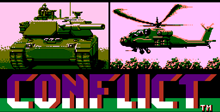 a game by Vic Tokai
Platform:

NES
See also: Conflict Games
Manufacturer: Vic Tokai
Machine: NES
Stanley Orlen, of Hewlett, New York, sent in a code that will reveal the final battle scene. Type in HEXASOURYOKUSEN. Thanks, Stanley.
Conflict Downloads

Conflict download
At the break of dawn, the eerie sounds of heavily-laden tanks pierce the morning calm. The metallic reflection in the distance only proves that the sun is bright, but who is it?
Are these tanks the armored support you called for, or has the red machine broken through? There is little time to react. Should you wait till your men are in range, or should you attack them now?
As Commander-in Chief, you've got no time to waste.