Dominus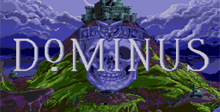 a game by Ascii
Platform:

Genesis
See also: RPGs
Dominus is a unique genre of games becomes it blends the most unique aspects of action, role play, adventure, and war games into one smooth package!
Play as a reigning overlord where you must position your defenses and understand what your opponents want and, and more importantly, just who they really are!
Throughout the game you can control and manipulate your troops, or even create new ones to do your bidding! Use them wisely or you could lose the possibility of having 72 territories under your iron-fisted rule!
The power has been unleashed and only you can control the fate of Dominus.
Dominus Downloads

Dominus download
Also you have to think really carefully before making each move in this game.
This is not obviously and literally for average minds. What we have is a certain mix of strategy and RPG, but more complicated and twisted. You have to operate the castle and creatures serving you. You can hire to employ new characters and study magic spells. In general thinking in this game is really important...