Fengshen Yingjiechuan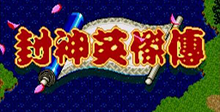 Platform:

Genesis
See also: RPGs
The genre of the game is a step-by-step RPG with the common fight system, but with very beautiful graphics and a great set of magic. And the music here is fascinating but the language of the game is Chinese...
Fengshen Yingjiechuan Downloads

Fengshen Yingjiechuan download
This game is Fengshen Yingjiechaun I am 10. It has lots of awesome people the farther you get in the game it's diffuculty is easy and it is easy to understand once you've played it for a while.