Fire Shark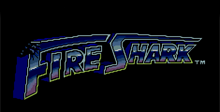 a game by Toaplan
Platform:

Genesis
See also: Fire Games
Levels: 99
Theme: Shooter
Players: 1
Difficulty: Average
It's World War 2, and you are needed to take out the evil brigade of enemy battle planes and other deadly vehicles that will try to stop you every way possible. Challenging to the Max!
Fire Shark Downloads

Fire Shark download
Air battles have always attracted gamers. In this game they have one more opportunity to show their military skills. In the game you need to work wonders miracles using a small agricultural plane, which liquidates hordes of enemies with a machine gun or something like that and several powerful bombs. As agricultural planes are fragile, any enemy hit may break your fighting machine to ashes, therefore it is necessary to maneuver constantly.