Ghost House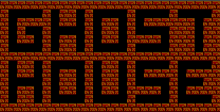 a game by Sega
Platform:

Sega Master System
See also: Ghost Games
Manufacturer: Sega
Machine: SMS
At certain portions of the game, there are overhead lamps that hang down. To temporarily freeze the action on-screen, jump up and hit the lamp with Mick's head. This will stop everything in its path for about four seconds.
Also, to make Mick momentarily invincible, you must jump over and capture 16 arrows. This is fairly hard to do, but the benefits, though short-lived, are enormous.
Ghost House Downloads

Ghost House download