GP-1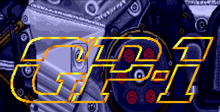 a game by Atlus
Platform:

SNES
With so many F-1 auto racing games available, you wouldn't think there are any driving thrills left. Been there, done that, right? Wrong! Try hitting the track with GP-1, Atlus's thrilling new motorcycle racer.
ProTip: Don't try to cut corners. This typical racing move will slow you down too much.
High Performance
GP-1 is like a Formula One racing game in some ways. You compete against 15 drivers on 13 international tracks. Solo Qualifying Races determine starting positions, and then three-lap Finals assign cash prizes. Use your winnings to buy better suspensions, frames, and engines for your machine.
Fortunately, GP-1 offers attractive advantages that car racers don't have. You get the standard behind-the-driver view and a for- ward-scrolling track, but here you can lean into turns. Your racer wobbles when he's brushed by traffic; he puts his foot out to right himself, and he gets that knee down on tight turns. Plus, when you spin out, you're thrown off the bike and you have to push-start it to get it going again. These touches add excellent realism to the racing.
Cycle Sights and Sounds
This is a good-looking game. Detailed backgrounds illustrate the different courses, and brightly colored leathers differentiate the cyclists. The speed, times, and positions are clearly displayed for quick reference during the race. The one visual negative is the course map, which isn't very helpful. GP-1's sounds are only OK. Though the music is minimal, the whine of the engines and the screech of the tires ring true.
What's missing is the clear sound of approaching racers, a drawback since you don't have mirrors to see who's on your tail.
Final Lap
Overall, GP-1 provides an exciting ride. Anyone tired of F-1s should take this machine for a spin.
GP-1 Downloads

GP-1 download
Machine: SNES;
Manufacturer: Atlus; Genki
Buyer's Guide: Race for the World Cycle Championship on more than 13 courses in 12 countries. You can also challenge a friend in split-screen, head-to-head action. You practically eat bugs as the asphalt rushes by.
Driver's Ed: The brake brings you to a stop very quickly, so use it sparingly. It's better to let up on the accelerator before you reach a turn, then step on it as you come out of the curve.
In the spirit of Sega's Hang On comes Cycle Grand Prix by Irem. Make your pitstops, change tires, refeul, and get ready for the most intense racing action on GameBoy!
Like the Varie auto racing game, Irem's motorcycle Grand Prix is very well designed. Set up the bike depending on expected track and weather conditions. The courses are those of the real GP circuit so there is some realism built in. With a split screen you can race head-to-head against a friend and each can watch his own screen!